Solid to G-Code in ONE Click
Take your Wire EDM programming to the next level with CAMWorks Wire EDM Pro – increasing efficiency and reducing delivery times.
With CAMWorks Wire EDM Pro you can go from solid model to G-Code in ONE Click! Once the solid model is opened, the user clicks on the Solid to G-Code button and the system automatically…
Searches the part for machine-able features
Identifies the features
Generates all the operations
Includes users' preferences and settings

tool offsets
cutting conditions
start holes

Creates the toolpaths
Posts the G-code
CAMWorks Wire EDM Pro includes automatic programming for complex 2-axis, 2-axis with taper and full 4-axis wire EDM machining.
Automatic Land and Taper Detection & Programming
Feature recognition detects land & taper on 3D models or computes land & taper on 2 axis features and automatically generates toolpaths for machining.
Improved Cutting Conditions for EDM Machining
OEM cutting conditions and offsets are auto-selected, user-adjustable if required, and are output directly to the G-code program.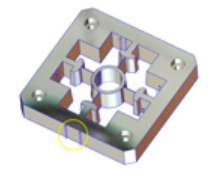 Automatic Calculation of Glue Stop Size and Location
Automatic size and placement based on user inputs and slug size. Users can also interactively adjust and configure to create custom glue stops, as required.
Support of Sub-Programs and SOLIDWORKS Patterns
Automatically identifies SOLIDWORKS patterns, applies machining strategies, and leverages sub-programs to eciently machine the patterned features.
Automatic Programming of Complex 4-Axis Parts
Feature recognition and automatic programming of even the most complex 4-axis parts at the push of a button, with user-defined machining strategies!
Virtual Wire EDM Simulation
Integrated true G-code virtual simulation with user configurable wire guides, and animation -time & quality settings. Deep zoom allows closer look at small features in high resolution, for precise control.
Detailed Machine Settings Based on Machine Selection
Applies the correct power settings, cutting conditions, and machine parameters automatically based on the machine selected by the user.
Automatic Start Hole Selection
Automatically recognizes start holes for individual or multiple profiles and auto-generates lead-ins based on start hole locations at the push of a button.
2 Axis Coreless Pocketing
2 Axis no-core roughing can remove material in virtually any shape to eliminate slugs, large remnants, and glue stops when machining pockets.