CAM automation and library revitalize precision manufacturer
TECMA, a family-owned precision machining business, provides machining services for the aerospace and defense industries. They have provided parts for many historic U.S. space programs, from the 1st Apollo missions to the upcoming Artemis mission. To remain competitive and continue their growth, the company needed to transition from 2D to 3D programming capabilities. They found an excellent solution in CAMWorks, which enabled them to increase output, control costs, and position for the future.
How Jewa Metallverarbeitung improves its productivity by getting the most from CAM system
A Technology Database is the "brain" behind the automated machining performed by CAMWorks. The database links tools, operation strategies, and machining parameters with the features. When generating operations, CAMWorks automatically links these settings. The operation parameters can be changed before and after the toolpath is created. CAMWorks allows the creation of rectilinear, highly targeted programs, making the user's job that much easier.
CAMWorks helps build a custom bike
Rothweiler Feinwerkmechanik's ability to design and build a complete custom motorcycle was made possible not least by the functionality, precision, and ease-of-use of the CAMWorks CAD/CAM system. But it is not just with this showpiece and technology carrier that the Baden based company relies on CAMWorks. Rather, it also depends on it in its everyday operations as a parts producer.
Boosting efficiency of mold and tool & die production
Anchor Danly is a leading international manufacturer and distributor of high quality die sets, components, steel plates, and metal fabrications. Their products are used in tools, dies, and molds for metal working and plastics injection molding, machine bases, mining & construction equipment, and general fabrications.
Building custom guitars from sustainable materials cost-effectively
Jonathan "Jay" Miller founded Born Custom Guitars, a Colorado-based electric guitar company, with the goal of designing and building custom, unique guitars that fit the tastes and preferences of each individual player. Miller's passion for music and for building beautiful, eminently playable stringed instruments prompted him to leave a career in the financial services industry and establish Born Custom Guitars in 2010.
Industry: Musical instruments from sustainable materials with an emphasis on electric guitars
Boosting throughput and quality while saving time and money
Decimal Engineering, Inc. has provided precision manufacturing services for more than 40 years. Like all manufacturing service providers, the Florida-based company faces competitive pressures to shorten production lead times, minimize scrap/rework costs, and maximize machine up-times.
Industry: Medical Device
Western Saw Plays the Angles and Wins with SolidWorks and CAMWorks Combination
It's tricky and dangerous to cut window and door holes out of concrete walls, especially at a building's corner. Western Saw used SolidWorks 3D CAD software, SolidWorks Simulation software, and CAMWorks computer-aided manufacturing software to quickly develop a track-mounted corner saw attachment.
Industry: Automotive and Aerospace Industries
Designing, Machining, and Installing Parts in a Single Day
Brothers Mike and Jim Ring have transformed their passion for restoring iconic muscle cars and building innovative street machines into an internationally recognized car building/restoration and automotive parts company known as Ringbrothers
Industry: Automative Restorations
Accelerating Design and Manufacturing of Recycling Systems
Karl W. Schmidt & Associates, Inc., is a global leader in the design, engineering, and manufacture of custom recycling systems. Through its focus on innovation, the company has grown steadily and now serves clients in more than 35 countries
Industry:Recycling Machinery and Equipment
Making Programming Hands-Free (Almost)
Feature-recognition CAM software helps this technology company's internal mold shop deliver critical molds more quickly. A programmer is still needed, but the software automation saves considerable time.
Industry:Recycling Machinery and Equipment
CAMWorks Drives Innovation in Industrial Design at Victoria University, Wellington
At Victoria University, students are encouraged to explore different patterning processes on virtual surfaces by using CAMWorks to machine the surface through techniques such as contour machining, zigzag, and flowline machining.
Industry:Educational
With CAMWorks, Tampa Bay Steel is always 'Ready for Business'
As one of Florida's major steel distribution and metal processing companies, Tampa Bay Steel offers services to hundreds of customers in the North American region. The company works with a variety of metals, and stocks a vast inventory of materials.
Industry:Mining and Metals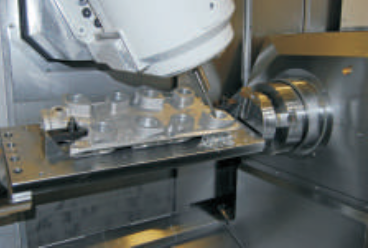 CAMWorks Plus Advanced Machines Put Roush Industries in the Winner's Circle
Roush Industries provides engineering, testing, prototype development, and manufacturing services. Closely associated in the public mind with motorsports, it also serves an array of other automotive clients, as well as aviation, electronics, medical equipment and consumer products companies.
Industry: Manufacturing
Powerful CAMWorks Software Helps Magnus Hi-Tech Speed Up Time to Market
Magnus Hi-Tech Industries Inc., (www.magnusht.com) Melbourne, Florida, is good at what it does: providing high quality solutions to the full range of its customers' fabrication needs. Using advanced sheet metal fabrication and machining technology, coupled with rigorous quality methodologies, has enabled Magnus Hi-Tech to win a host of customers in the defense, aerospace, medical and other demanding fields.
Industry: Custom Manufacturing
Efficient Machining Strategies from CAMWorks with VoluMill Help Tomak Precision Boost its Efficiency and its Bottom Line
The people at Tomak Precision (www.tomak.com), Lebanon, Ohio, know what the right technology in the right hands can do. Tomak is a job shop that prides itself on its advanced manufacturing technology and highly skilled individuals.
Industry: aerospace, medical, machine tool and other industries
Sealegs: On a smooth sail with CAMWorks
The world's largest manufacturer of amphibious boats, New Zealand-based Sealegs International manufactures recreational and rescue crafts that can be driven in and out of water.
Industry: Marine machinery and equipment
Finding Better Ways to Heal and to Manufacture
Medical device manufacturer, Pioneer Surgical, has built a reputation for innovation and responsiveness with help from highly skilled people and powerful CAMWorks® software
Industry: Medical Equipment
CAMWorks enables CP-Carrillo LLC to Optimize Programming and Business Processes
CP-Carrillo develops, produces, services and markets high performance forged pistons and high performance connecting rods in the global niche markets of motor-racing, vintage cars, motorcycle, marine and aerospace industries
Industry:Motor-racing, vintage cars, motorcycle, marine and aerospace industries
ASTONISHINGLY EASY TO USE
Catrike was created in 2000 and has earned numerous awards along the way. Their focus on product development, engineering and process design has made for great, user-friendly trikes that not only look cool, but perform beautifully with little maintenance.
Industry:Motor-racing, vintage cars, motorcycle, marine and aerospace industries
SERIOUS DELIVERY-TIME ACCELERATION
NCAD is a unique company in Florida that provides comprehensive services, from concept to fully assembled product in one facility, without the need to outsource any aspect of the job.
Industry: Motor-racing, vintage cars, motorcycle, marine and aerospace industries
Saving Lives with 24-Hours Turnarounds
The company, which takes its name from the acronym for Digitally Enhanced Compensation/Intensity Modulation with Alloys, has provided radiation therapy products to hospitals and cancer centers across the United States to aid in the treatment of cancer for over two decades.
Industry:Medical Devices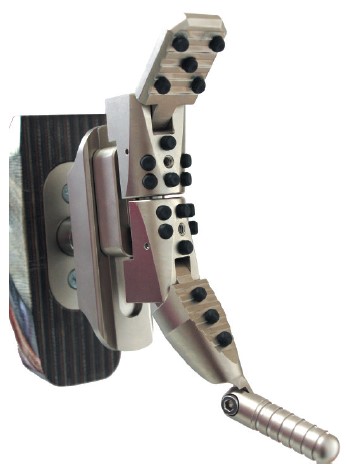 SolidWorks and CAMWorks - a winning combination for designing championship air arms
NSP Engineering (Air Arms) make sporting air rifles that set the hunting standard; and competition rifles that win world championships. They are market leaders within the mid-range sector and sell throughout the world through over 35 resellers.  
Industry:Medical Devices
Paving the future with CAMWorks
A high-end manufacturer of critical engine and structural components for aerospace companies, oil field operators, and high-speed packaging machines, Kolhapur-based Datta Enterprises builds customized parts for its clients. As bespoke manufacturing typically consists of small batch cycles with many variants, building such parts requires high precision. This naturally calls for a Computer Aided Manufacturing (CAM) platform that can machine complex parts on a sustained basis with minimal errors.  
Industry:Precision Components
Precision Aerospace Utilizes CAMWorks to Help During COVID 19 Crisis
A customer reached out to Precision Aerospace and requested help manufacturing ventilator parts amid the COVID 19 pandemic. The team at Precision Aerospace immediately started putting things in place to provide the parts.  
Industry:Aerospace Parts Components