CAMWorks is an intuitive, feature-based CAM software that helps to increase productivity using best-in-class technologies and adaptable automation tools to maximize CNC machining efficiency.
Uses feature-based machining, machinable part features are recognized automatically, virtually eliminating repetitive programming tasks
Captures and stores your best practices so that you are able to later utilize this as a knowledge-base for easier programming
CAMWorks tool paths are associative and update automatically to design changes
Cut Setup Time by50%

Reduce Cycle Time by80%

Increase Production by400%

Increase Tool Life by500%
Why CAMWorks CAM Software ?
First and best integrated CAM software in SOLIDWORKS We are SOLIDWORKS Gold-level solution partner in CAM since 1998. CAMWorks is fully integrated with SOLIDWORKS
Tolerance Based Machining - Uses tolerances and features in 3D models to automatically create CNC programs
Feature Based Machining - Automatic Feature Recognition (AFR) automatically recognizes over 20 types of prismatic features on native SolidWorks part models, reducing programing time by as much as 90% compared to traditional CAM software
Knowledge Based Machining - allows you to capture and reuse your programmers' best practices using the patented TechDB, reducing programming time by as much as 80% and provides a company owned database to store employee knowledge and skill
CAMWorks Virtual Machine performs true G-code machine simulation directly from the G-code used for the CNC machine, eliminating dry runs and set up time
CAMWorks VoluMill™, the ultra high-performance tool-path engine allows you to reduce your cycle time by 80% for complex 3D- shapes and prismatic parts
What's New in CAMWorks 2022
See more video here
Seamlessly Integrated Inside SOLIDWORKS
As the first CAM solution to offer true knowledge-based machining capabilities, CAMWorks leads the way in advancements in Automatic Feature Recognition (AFR) and Interactive Feature Recognition (IFR). CAMWorks offers true associative machining - automatically accommodating changes to the part model. This means that any modifications made to the design are automatically updated in the CAM data, which eliminates time consuming CAM system rework due to design alterations.
Thanks to its seamless integration with SOLIDWORKS, CAMWorks allows you to:
Use and manage just one file for both CAD and CAM systems.
Use the CAMWorks machining tree and commands at the click of a button along with SOLIDWORKS, plus generate toolpaths without leaving the familiar SOLIDWORKS environment.
Use the same SOLIDWORKS geometry to generate toolpaths to ensure the part machined is the same as the part that is modeled.
Eliminate time-consuming file transfers using standard file formats such as IGES and STP.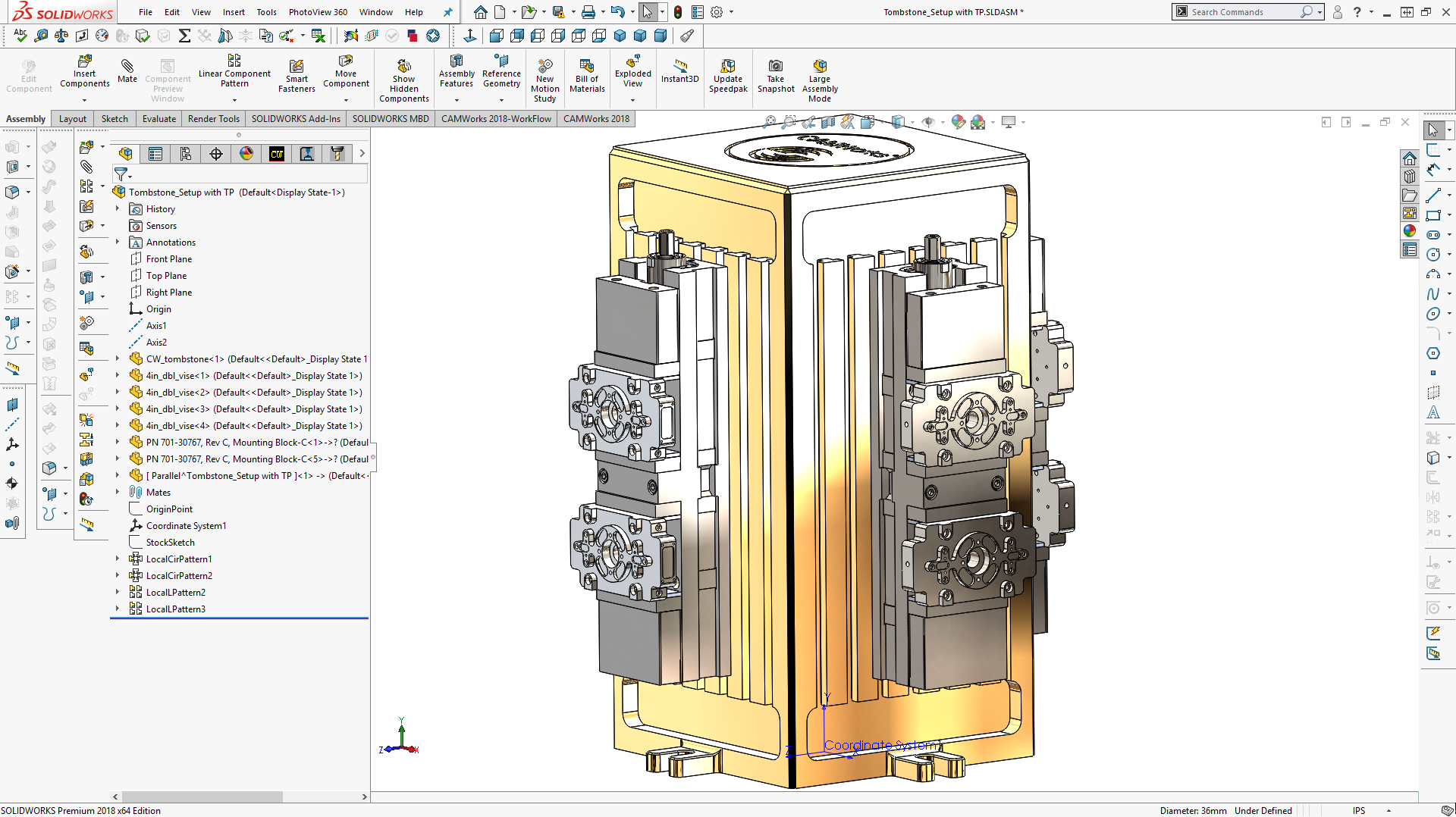 CAMWorks is the First SOLIDWORKS® Certified Gold Product for Manufacturing/CAM Software seamlessly integrated into the design software.
Ultra High-Performance Toolpath Engine
within CAMWorks for 2.5 and 3 Axis Roughing Operations
Faster Cycle Times - CAMWorks® VoluMill
CAMWorks® VoluMill™ is ideal for complex 3-D shapes and prismatic parts as its algorithms result in more intelligent toolpaths to machine pockets, slots, and arbitrary shapes. VoluMill is well suited for machining soft as well as hard materials that are hard to chip, such as titanium, nickel-based alloys or stainless steel. The result is increased efficiency and utilization of machines, tools, labor and materials.
The high-performance roughing module, combines optimal milling paths and maximum material removal with minimized machining times. VoluMill's unique approach to high speed material removal allows the programmer to determine the optimum material removal rate for any combination of part geometry, material, machine, and cutting tool..
Reduce your Cycle Times up to 80%
Reduce your programming times up to 50%
Increase your Cutting Tool Life up to 500%
Cut Your Setup Time - CAMWorks® Virtual Machine
CAMWorks Virtual Machine uses the latest technology to perform true G-code machine simulation directly from the G-code used for the CNC machine. We are the first CAM software to bring true G-code machine simulation directly integrated within the CNC programming environment. Unlike other CAM systems that use cutter location (CL) data for machine simulation, CAMWorks Virtual Machine uses the actual G-code to ensure precision and accuracy.
Cut Setup Times by 50% or more
True G-code Machine Simulation
Full Collision Detection - including the tool, tool holder, machine components, and fixture
Avoid Collisions and Broken Tools
Reduce Maintenance Costs
Extend Machine Life
Verify G-Code With 1 Click. With CAMWorks Virtual Machine, dry-runs for program validations are completely eliminated.
Modern Toolpath Generation
for your SOLIDWORKS Designs
Tolerance Based Machining (TBM)
With the introduction of Tolerance Based Machining by CAMWorks, the manual tasks associated to preparing parts with close tolerances, asymmetric tolerances, surface finishes and other drawing annotations for toolpath generation will now be part of the past. Not only does CAMWorks automatically identify manufacturing features and automatically create toolpaths, CAMWorks will now recognize the tolerances and surface finishes associated with a feature to select the appropriate tools, speeds, feeds, etc… to generate the best toolpath. For the first time, an application that leverages this information to automate and dramatically accelerate the manufacturing process is now available.
Reads SOLIDWORKS® MBD/DimXpert dimensions and surface finishes
Automatically selects machining strategies to meet the specified tolerances
Catrike: A CAMWorks Success Story
"If you're designing in SOLIDWORKS and you want to start machining, get CAMWorks."
- Lynn Bradbury, Catrike
Catrike was created in 2000 and has earned numerous awards along the way. Their focus on product development, engineering and process design has made for great, user-friendly trikes that not only look cool, but perform beautifully with little maintenance.
What Clients are saying about us
Why our clients love us
CAMWorks VoluMill lets us reduce stress on the spindles and end mills while accelerating machining, helping us to control costs while increasing throughput

Not only have we cut our set-up times in half using CAMWorks ShopFloor, the solution has also improved the quality of the set-up

I've always been a hands-on learner, and CAMWorks was so intuitive that I was able to pick it up quickly

With the provided APIs in SOLIDWORKS and CAMWorks, we've been able to achieve an unprecedented level of automation