End of Year FREE NestingWorks Offer
Purchase a new license of SOLIDWORKS CAM Pro + Subscription and Receive a NestingWorks license FREE with NestingWorks 1 Year USP Purchase
Offer valid Until 12/28/18, limit 1 NestingWorks license per customer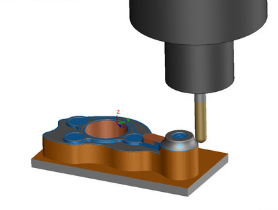 SOLIDWORKS CAM Professional
SOLIDWORKS CAM Standard lets you quickly program individual milled parts and configurations without leaving the SOLIDWORKS 3D CAD environment. You have full access to defining rules within SOLIDWORKS CAM to create and build to your company standards, as well as Tolerance-Based Machining (TBM).
SOLIDWORKS CAM Professional builds on the capabilities of SOLIDWORKS CAM Standard with increased programming capabilities. The additional features include High-Speed Machining (HSM), configurations, assembly machining, turning, and 3+2 programming to drive four- and five-axis machines.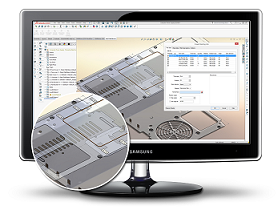 NestingWorks
NestingWorks helps in optimizing sheet metal and flat stock designs as well as supporting the transition from design to manufacturing for sheet metal and flat goods. With single dialog box ease-of-use, NESTINGWorks is extremely simple to use and provides industry leading capabilities to help optimize not only the design, but to also optimize material usage when laying out parts on a sheet.
NESTINGWorks software leverages Geometric's industry-leading NESTLib® true-shape 3D technology — known to nesting application developers worldwide as one of the fastest and most fully featured automatic true-shape nesting libraries available in the industry.
SOLIDWORKS CAM
SOLIDWORKS® CAM allows users to integrate design and manufacturing processes in one system to avoid downstream delays and rework cost, helping organizations in bringing high quality products faster to market. Manufacturing tasks that had to wait until a design was complete can now be performed concurrently with the design process.
SOLIDWORKS CAM - powered by CAMWorks - uses rules-based technology that enables you to integrate design and manufacturing in one application, connecting design and manufacturing teams through a common software tool and 3D model.
CAMWorks is the only CAM system that is 100% compatible with SOLIDWORKS CAM
TRUE SHAPE NESTING
To orient parts true to shape, to optimize how parts can fit on a shape. Many simple nesting tools just draw a box around a part and nest the box, wasting valuable material
USER-SPECIFIED GRAIN DIRECTION
Sheet stock has directional material properties that are important in many designs
---
PART-IN-PART NESTING
Enable the ability to maximize material usage by fitting smaller parts in open areas and cutouts on larger parts of the same thickness
ASSOCIATIVITY TO SOLIDWORKS
As your design changes, any NESTINGWorks layouts will update
---
AUTOMATIC LAYOUT OF PARTS WITH VARIED THICKNESSES
Many assemblies have parts of various thicknesses that need to be nested. NESTINGWorks can sort the parts in an assembly and automatically group and nest parts of the same thickness
COMPATIBILITY WITH DOWNSTREAM MANUFACTURING TOOLS
NESTINGWorks creates 3D SOLIDWORKS® assemblies that can be used to communicate with any manufacturing application
---
SOLIDWORKS CAM Upgrade Plan
CAMWorks is the only CAM system that is 100% compatible with SOLIDWORKS CAM!
Product
SOLIDWORKS CAM
CAMWorks
CNC Programming Capability
Standard
Professional
Standard
Milling Professional
Turning Professional
Premium
Product
SOLIDWORKS CAM
CAMWorks
CNC Programming Capability
Standard
Professional
Standard
Milling Professional
Turning Professional
Premium
| | | | | | | |
| --- | --- | --- | --- | --- | --- | --- |
| 2.5 Axis and Limited 3 Axis Milling | | | | | | |
| Feature-Based Machining with Feature Recognition | | | | | | |
| Area Clear Roughing, Flat Area, and Z Level Finishing | | | | | | |
| | | | | | | |
| --- | --- | --- | --- | --- | --- | --- |
| Standard Features | | | | | | |
| NC Editor with Backplotting – Powered by CIMCO | | | | | | |
| Tolerance Based Machining (TBM) | | | | | | |
| Part Document Machining | | | | | | |
| Assembly Document Machining | | | | | | |
| Multiple CAM Configurations | | | | | | |
| | | | | | | |
| --- | --- | --- | --- | --- | --- | --- |
| VoluMill 2.5 Axis Roughing | | | | | | |
Turning for CNC Lathes
Sub-Spindle Programming
Two Turret Support
| | | | | |
| --- | --- | --- | --- | --- |
| 3 Axis Milling – Advanced | | | | |
| Advanced 3 Axis Roughing and Finishing Capabilities | | | | |
| 3 Axis Undercutting with Standard and Custom Tools | | | | |
| | | | |
| --- | --- | --- | --- |
| Sync Manager for Synchronized Machining | | | |
| | | | |
| --- | --- | --- | --- |
| CAMWorks Virtual Machine Standard | | | |
| | | |
| --- | --- | --- |
| 4 & 5 Axis Simultaneous Milling | | |